Speaking with Ryan I knew he was extremely knowledgable about muscle function and the way the body works. I have a B.H.S. in Allied Health Education so I knew he really knew his stuff. I have now worked with Ryan for six months and my results have been amazing to me.
It is always so difficult to describe to my friends what it is we do during our workout. Movement is painful for me so we started off with his functional exercises with him and at home which has made such a difference. Then he slowly moved into kettlebells, movement exercises, always something different. I can't say it enough how the change in myself is all due to the way in which Ryan has treated, understood my needs, and the truly unique way he trains.
Ryan and I work out three times a week and start off every workout by telling him where my pain is and then we go to Ryan's iPad to show me the nerves and muscles that are effected. He caters to my pain and I am always surprised and thrilled the way my body feels. I would never in a million years have thought that I would find a trainer like Ryan.
Gold's Gym is extremely lucky to have such a special person and trainer in Ryan Blackburn. Thank you very so much!
Are you ready to play your best through
effective, focused, and proven training?
Now offering in-person and online training. Contact me now to schedule your
complimentary golf specific movement evaluation.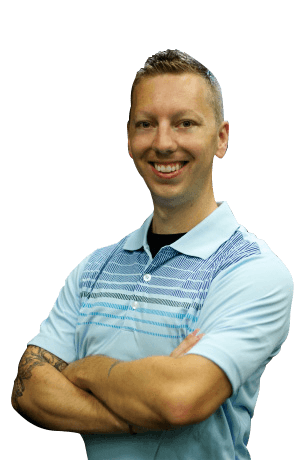 Ryan Blackburn is the owner of Orlando Golf Performance in Orlando, FL. He works with golfers on every major tour as well as college and amateur players. He holds multiple certifications in the field of functional movement and athletic performance.