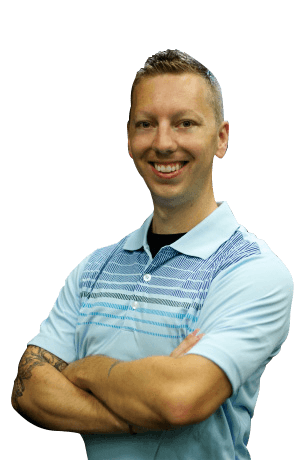 I grew up playing a wide variety of sports, all at high levels of competition. After becoming a trainer, my love for sports drove me to seek advanced training and certifications including golf-specific evaluation and fitness certifications.
I've concentrated on fine tuning each golfer's body to be able to perform their absolute best and stay injury-free. Professional, beginner, and junior golfers are all thriving under my training programs.
This practical approach to training is designed to help you
Move Better, Feel Better, and Perform Better!

TPI GOLF FITNESS PROFESSIONAL – LEVEL 3 (TPI – FP3)
Golf-specific movement screening and training techniques that identify limitations in your body that will affect your swing. Fixing these limitations is the fastest way to improve your golf game. Increased specialization in functional strength and power development continuums for golfers. Able to develop weekly, monthly, and annual periodized training plans for touring players.
NIKE NG360 GOLF PERFORMANCE SPECIALIST (NG360-GPS)
A scientific process of analysis and training to enhance the athleticism and performance of golfers in all planes of motion.
FUNCTIONAL MOVEMENT SPECIALIST – LEVEL 2 (FMS)
Advanced training in movement screening and functional movement training techniques. I can identify muscular imbalances and movement dysfunction in your body that, if left uncorrected, will limit your performance and eventually result in injuries.
4D MOTION
Specialized education using 3d motion capture sensors to capture and analyze golf swing biomechanic efficiency and kinematic sequence.
3D MOVEMENT ANALYSIS & PERFORMANCE SYSTEM (3DMAPS)
Comprehensive training in human 3d movement analysis and 3d performance training to enhance functional chain reactions in your body in all three planes of motion.
PERFORMANCE ENHANCEMENT SPECIALIST (NASM-PES)
Specialized education in training high level athletes to achieve their maximum potential. Advanced nutritional concepts for competing athletes. Proper periodization to optimize workouts whether you are in-season or out. Advanced athletic strength and power development.
CERTIFIED PERSONAL TRAINER (NASM-CPT)
Whether you are a first-time health club member or a high-performance athlete, I can design a goal-specific training program for optimal results, conduct an accurate assessment, and develop and modify exercises in a safe and effective manner to adapt to your unique needs.
RUSSIAN KETTLEBELL INSTRUCTOR (RKC)
In-depth kettlebell knowledge and training to help utilize these highly effective tools in your training regimen.