Individualized Online Training
Take strokes off your game.
If you're serious about your golf game, it's time to get serious about your fitness. Get the attention to detail and expert insights your game deserves.
Build Strength
Your body is an integrated system. We'll help you build functional strength and generate more force, safely.
Improve Performance
Our proven and personalized training translates into longer drives, more stamina, and increased consistency.
Eliminate Pain
Start training for the long term. We'll screen and analyze your movement to fix limitations and reset your body.
Enjoy Yourself
You should enjoy the game you love. Compete at a higher level, lower your score, and have injury-free fun.
A Program Designed just for YOu
The individualized online program is utilized by all our touring players
as well as hundreds of golfers around the world that want to get the
absolute best results possible.

This program is completely customized to you:
YOUR Body, YOUR Swing, YOUR Goals!
See what's included with the program.
Invest in your most important piece of golf equipment: your body. Whether you're an amateur, professional, weekend warrior, or junior golfer, our individualized online training produces results.
Monthly Check-In
Each month we'll spend half an hour assessing your progress, upcoming schedule, and discussing the ongoing strategy to turn you into the best golfer you can be.
Video Evaluation
Remote training starts with a video assessment where we discuss your specific goals, health history, and swing characteristics. Then we'll complete a movement screening so I can fully customize your program.
Personalized Program
It takes a personalized plan to reach your goals. Through attentive training and expert feedback, we'll build a foundation of correct movement for your body and swing. Then we'll start building strength and power.
Daily Maintenance Plan
You will get a 15-minute homework routine to correct your limitations and compensations. All based on your free assessment. This routine also serves as a pre-game warm-up and should become part of your lifestyle.
Training software
The program will be delivered through an online training software, which you can easily access on your smartphone, tablet, or computer.
Video Library
Since the exercises in your plan are unique, you'll get access to a library of videos demonstrating how to perform each one. New videos are added frequently, so your content library is exhaustive and up-to-date.
Personal Feedback
Proper technique and form maximizes the production of every exercise. Upload a video of yourself performing a movement and I'll provide helpful feedback. Have questions? You can contact me directly at any time.
Nutritional Guidance
Your body needs proper fuel to achieve peak performance. Even eating unhealthy, you'll still see results on my plan. But the combination of my golf program and proper nutrition will supercharge your results.
Trusted by hundreds of golfers.
Train with confidence, knowing that 100% of our players gain distance on their drive and reduce nagging aches and pains. Rest assured, our system has been proven by professionals on every major tour.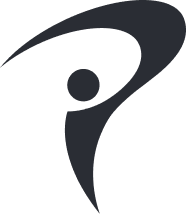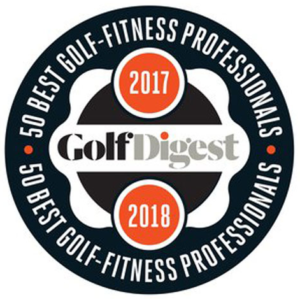 Invest in the game you love.
The individualized online program is valued at $1,000+ per month. Get it today for only $199 per month. And if you're a new client, get the first month for only $99.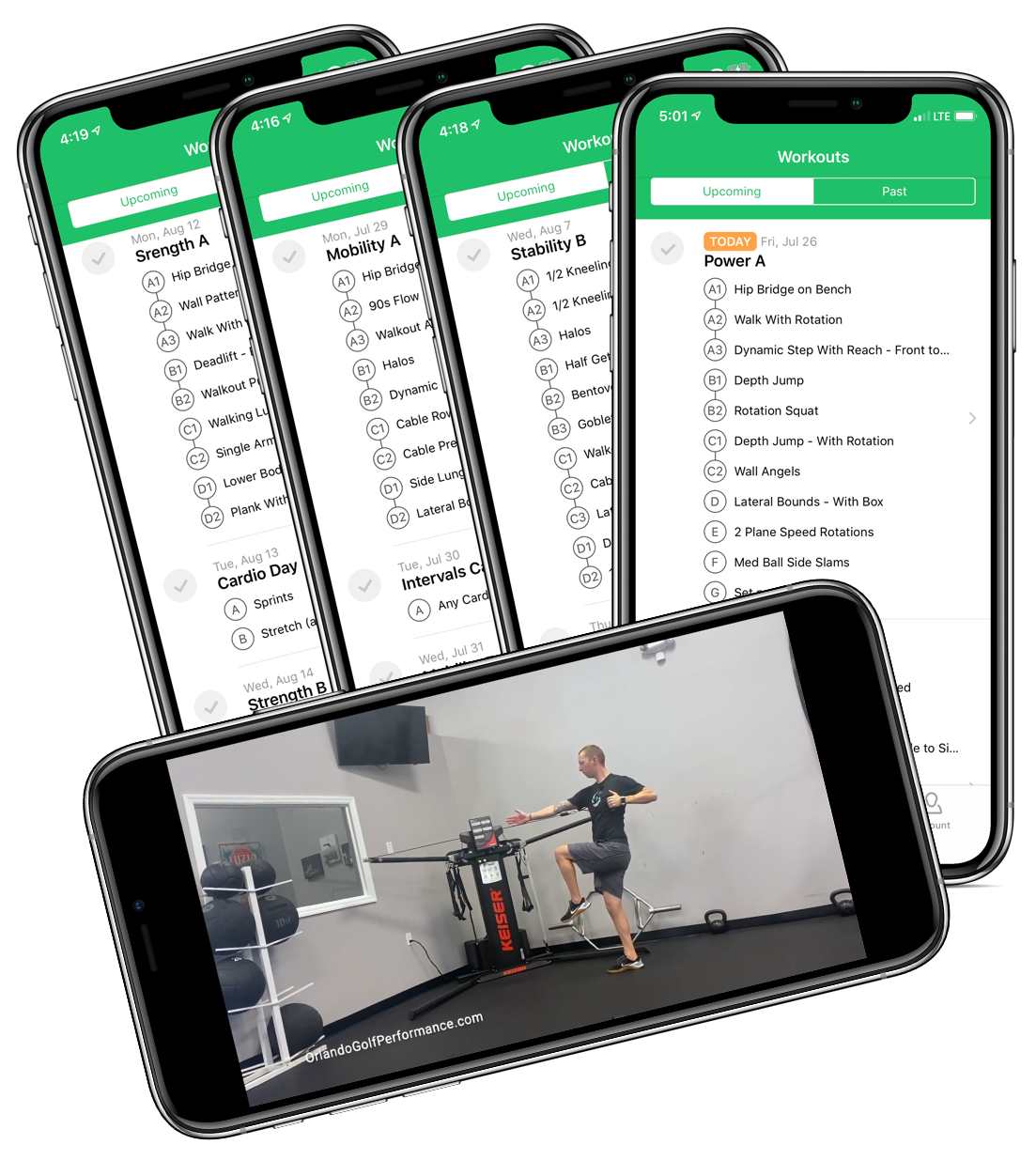 How does individualized programming help you?
After assessing your movement limitations, health history, and goals, we'll personalize a plan to increase your mobility, stability, strength, and power—the four pillars to golf fitness. A personalized plan is the fastest way to improve your performance by reducing your pain, increasing consistency, and adding distance to your drive.
1. develop power
Correcting your limitations increases movement efficiency allowing you to deliver more force to the ball at impact. Building on a solid foundation and further improving in the four pillars of performance helps further increase power production.
2. Increase Consistency
Less compensation helps you maintain joint positions and integrity as your muscles move through the golf swing. This improves energy efficiency and swing consistency.
3. Prevent Injuries
Mobility and stability help you get in and maintain good positions without fighting against your own body. It's time to let your body work for you, not against you.
What my clients have to say.
I've increased both club head speed and flexibility. I can now get in positions with my golf swing that I wasn't able to before. I'm off to one of the best starts to a season I've had in a really long time!
PGA Pro
With Ryan's vast knowledge of the body mechanics and his passion for helping people achieve their goals and dreams, I'm very excited to know that I've found an invaluable member of my team.
LPGA Player
I'm moving way better, I'm feeling way better, and I'm playing way better. The results are definitely there!
Amateur Player
If you asked me and my body six months ago to do some of these exercises I wouldn't have been able. Working hard on my own wasn't getting me where I wanted to be. Working on this stuff has been a game changer for my body and I really benefit from having more structure.
Amateur Player
Working out with Ryan the last few years has been the best decision I've made with my golf game thus far. It's so much easier to improve physically and mechanically with his very effective training. I am more stable and balanced now than ever. I have easily added 8-10 yards to my irons and 15 to my Driver.
Mini-Tour Player
I've started online training program five months ago and my body has improved much since then. My driver's club head speed bumped up from 87mph to 93mph. Ryan was able to identify weaknesses in my body and design a program tailored to my specific needs. I was also able to notch up my first win on the mini tour as a young professional in our short time working together!
Mini-Tour Player
Ive been doing online workouts with Ryan for a few months now and they are awesome. I have noticed a huge improvement in my range of motion and I'm definitely feeling stronger. The video explanations of the exercises are so good! Love working with him!
LPGA Player
Ryan has given me a step-by-step program that has given me the opportunity to help take my golf game to the next level. His expertise is the best I have worked with and the information also has improved my overall lifestyle. Plus adding club head speed and 15 yards distance off the tee is a nice perk as well!
Mini-Tour Player
Since working with Ryan my swing coach continually comments on the improvement in posture and set up. My average drive has moved from 200 yards to nearly 250 yards. My handicap has dropped about 6 shots to a low of 11.9. If you are looking for flexibility, strength, and yardage in your golf game, then training with Ryan is a must!
Amateur Player
I could not recommend the online-program enough! I am able to compete at a high level and I am convinced I could not work on my swing and my golf like I do without Ryan and his help. This benefits my golf, and certainly my overall physical ability. Looking ahead too many more years to come.
Amateur Player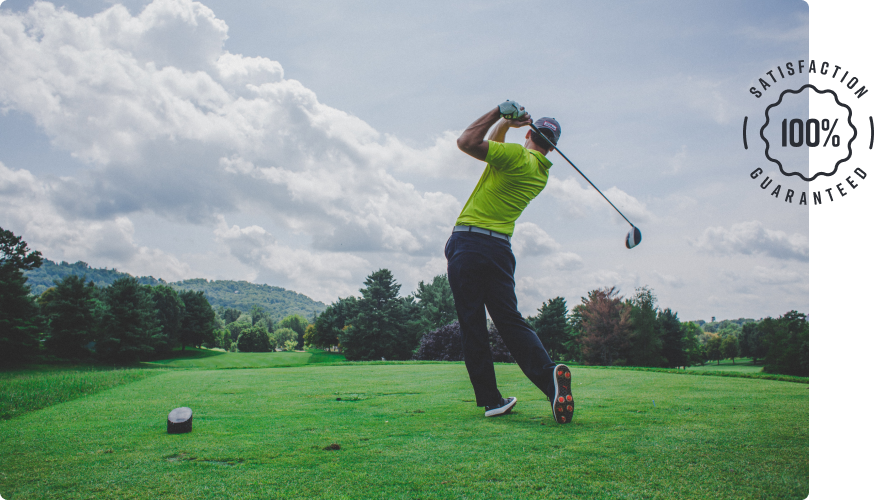 Satisfaction guaranteed.
No contracts, no hassle. I've worked with enough golfers (pro and amateur) to know my system delivers results.
If you follow the program, give it your best effort, and don't see improvement in the targeted areas, Cancel any time.
On sale, for a limited time only.
Sign up below for your free, no hassle consultation to see if this program is a good fit for you.
Get the answers you're looking for.
Since the program is completely customized, we work around whatever equipment you have available. Most clients have the most success with access to a basic gym or a well outfitted home gym.
The program is month to month, no contracts. Cancel any time before your new month begins.
ABSOLUTELY! We start with a full video movement screen and health history so rest assured, wherever you are now, we can customize a program suited to you and designed to get you better.
With all the feedback tools included in the program (built-in messaging, built-in video feedback, once a month video chat) most clients won't need anything extra.
However, you can add on live coaching sessions to your program for $60/session as often as you need.